Welcome to our website..!!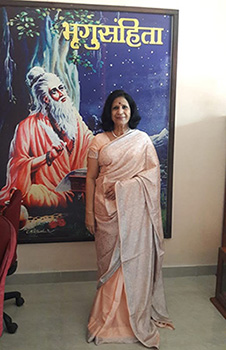 Ms.Nirmala Mittal is born and educated in Pune.She has worked as an eminent journalist for leading print media for 18yrs.
During the period of working as journalist, she got the opportunity to meet and interview several astrologers from India; more than 500+.She was having faith only in karma, human values and did not believe in horoscope, astrology and future prediction.
The reason for not having trust in astrology was lot of difference between astrologers for the same case in terms of prediction and remedy to present sufferings. Also knew that when the things are already written in our horoscope, than how it's possible to rectify or reduce its intensity. During the same phase, she also got the opportunity to read Islam, which focused on human values.
It was divine direction, which created circumstances for Ms.Nirmala to leave her home and fortunately got the "Bhrigu samhita" pocket book. But couldn't spare time to read it.
One fine day, while sitting idle, she had a glance and read few things which turned her mind to proceed ahead for the research work from 1995.
During the phase of her research in Bhrigu Samhita, she met a Brahmin from Pune in year 2000 and got the sacred granth from his possession for spreading the knowledge and benefit to mankind.
As it is said, behind every deed good or bad, divine is always there who guide and take you to your destiny, similar mystic experience was with Ms.Nirmala, where she got the darshan of Bhrigu Rishi in her dreams who taught her to read and use Bhrigusamhita.
She also got the opportunity to go in temples and find his birth secrets. Then carried out various researches between human being present karma, and his past life connections in his behavior, attitude, family connections, carrier and sufferings.

Latest News
Research 2012 :
Bhrigusamhita says you will get those things in your life, which fate has stored for you.If you run for any other things, than you will not get inspite of all your efforts, then efforts and time get wasted leading to frustration and tension. Bhrigusamhita guides you to get the right path which helps you to reach at your destined path smoothly.
Bhrigusamhita informs the person, what he can change from his end and what not possible / feasible from his end.
Astrologer cannot track all the negative planet impact on any person thru his kundali about any person and therefore he ignores / skips few things in general prediction; which finally results in failure. In bhrigusamhita there is no planetary effect to be considered during the forecasting or overall prediction of the person, therefore accuracy for prediction is very high and failure chances are minimized.

To summarize and conclude the research done by Ms.Nirmala Mittal in once sentence: If you get your horoscope reading thru bhrigusamhita once in your life time, you don't need to visit any astrologer in future for any purpose. You get all the remedies and reason for all your worries, which not only convince you, consoles you, but also strengthen your faith, trust and confidence in spirituality and divine presence in our life.
Know your 3 birth – past, present and future. Once you get the details, you don't need to visit any other astrologer in life.
The parents who lose their child in early age, they have lots of questions in their mind. Why their child lost in early age? Why the age of his child is not completed fully? What sin was committed by him in last birth? Where he will be now and whether he will take rebirth? All the answers related to these questions are available in Bhrigusamhita.
This website will give the next generation a new direction to lead happy, peaceful and prosperous life.